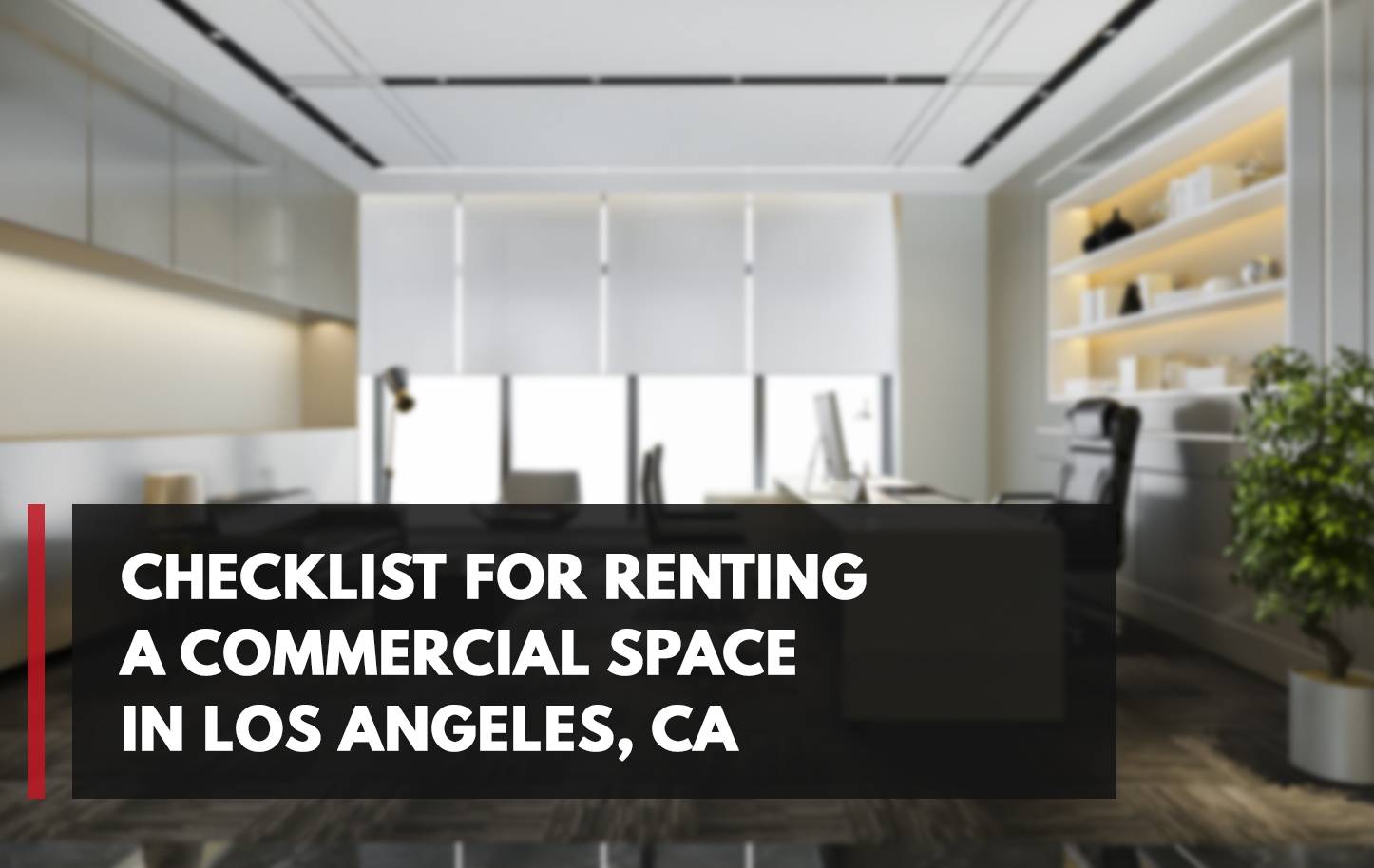 Checklist for Renting a Commercial Space in Los Angeles, CA
Published At: Sun, 07/04/2021 - 14:36
Whether your business is just starting or you are simply looking for more space to expand your operations, finding the suitable space may have its challenges. This is an exciting yet overwhelming time for your business, meaning there are plenty of factors to consider when thinking about a commercial space for rent in Los Angeles, CA.
This is why we have created a checklist to pinpoint all the essential features and guide you through the way.
Do Not Rush
Making a rash decision is only bound to end up in regrets. Choosing the right commercial space for rent in Los Angeles, CA needs a well-thought process. Make sure that you perform all the adequate research and due diligence to find the perfect place. Ideally, business owners should allow themselves at least three to six months to search. You can check out My Perfect Workplace for current availability of Los Angeles, CA commercial real estate for rent.
Know Your Neighbors
While you may think that neighbors are not as important when it comes to commercial spaces, you may need to think again! Just as with residential real estate, commercial real estate neighbors add just as much value to your property. The best way to get the essence of your new neighborhood is to drive or walk by and make observations. Moreover, you can also conduct some additional research by digging into the area demographics. Your observations will help you deduce whether you are in the right place for your products or services.
Keep the Future in Mind
Now that your business is growing and begs the need for a commercial space for rent in Los Angeles, CA, you will definitely get a taste of what it's like to rise high. This should also have you thinking of the future. While you may not be looking to expand immediately, make sure that you have done the research and are aware of your limits in any case. Before moving into a new place, make sure you check whether you are allowed to build out the space by verifying the zoning laws.
Insurance is Key
Many landlords require their tenants to have insurance in order to avoid any future complications. That is an important procedure to take care of; ensure that you thoroughly check the terms and regulations. Make sure that you are adequately insured and never underinsured. Of course, make sure that you account for this cost in your monthly expenses.
Bring in The Professionals
While you may not want to pay the extra costs of hiring an attorney and broker, professionals are proven to be helpful down the line. It is important to be as involved as possible to acquire a new commercial space for rent in Los Angeles, CA and leave the rest to the professionals. These people are well-trained and know the ins and outs of the commercial rental industry, and can most likely save you time and dollars along the way.
Check the Clauses
Make sure to read the fine print and not skim. This is where you can get in way over your head and open the way for complications in the future. Many landlords skilfully implant clauses within the fine print, knowing that most renters will not read that section. By doing so, you will be unknowingly stuck in a property that may restrict some of your much-needed resources.
Keep on Negotiating
Bring out your verbal skills and start negotiating your terms. Your lease terms will dictate what you can and cannot do throughout your occupation of the space. This is when you can tackle subjects such as rent increases or expenses and costs that you would like to have waved. It is essential to be on a well-negotiated term with your landlord in order to get what you need and have an honest communication for future endeavors. Aligning with professionals like attorneys and brokers is your best bet!
Location is Key
In Los Angeles, CA, it's all about location! Whether you are looking to relocate your family, build a factory, or expand your current small business, location is vital in this city. Make sure that you have thoroughly investigated and adequately vetted all of your options. It is not just about being in the middle of the city where all the actions happen, it is also about being in an area where your business can flourish and grow. In order to do so, you must find the right commercial space for rent in Los Angeles, CA for your business.
Make Sure To Have Everything Down on Paper
While the initial agreements may occur by word of mouth, never agree to finalize any agreement just like that. It is important to have everything clearly written down on paper and signed by all parties. This is your right to have as a renter and your protection for any future mishaps or miscalculations.
There are plenty of factors to consider before settling down in a commercial space for rent in Los Angeles, but all of this can be done with just the right research. Luckily, you have a wide range of listings in Los Angeles to choose from on My Perfect Workplace!