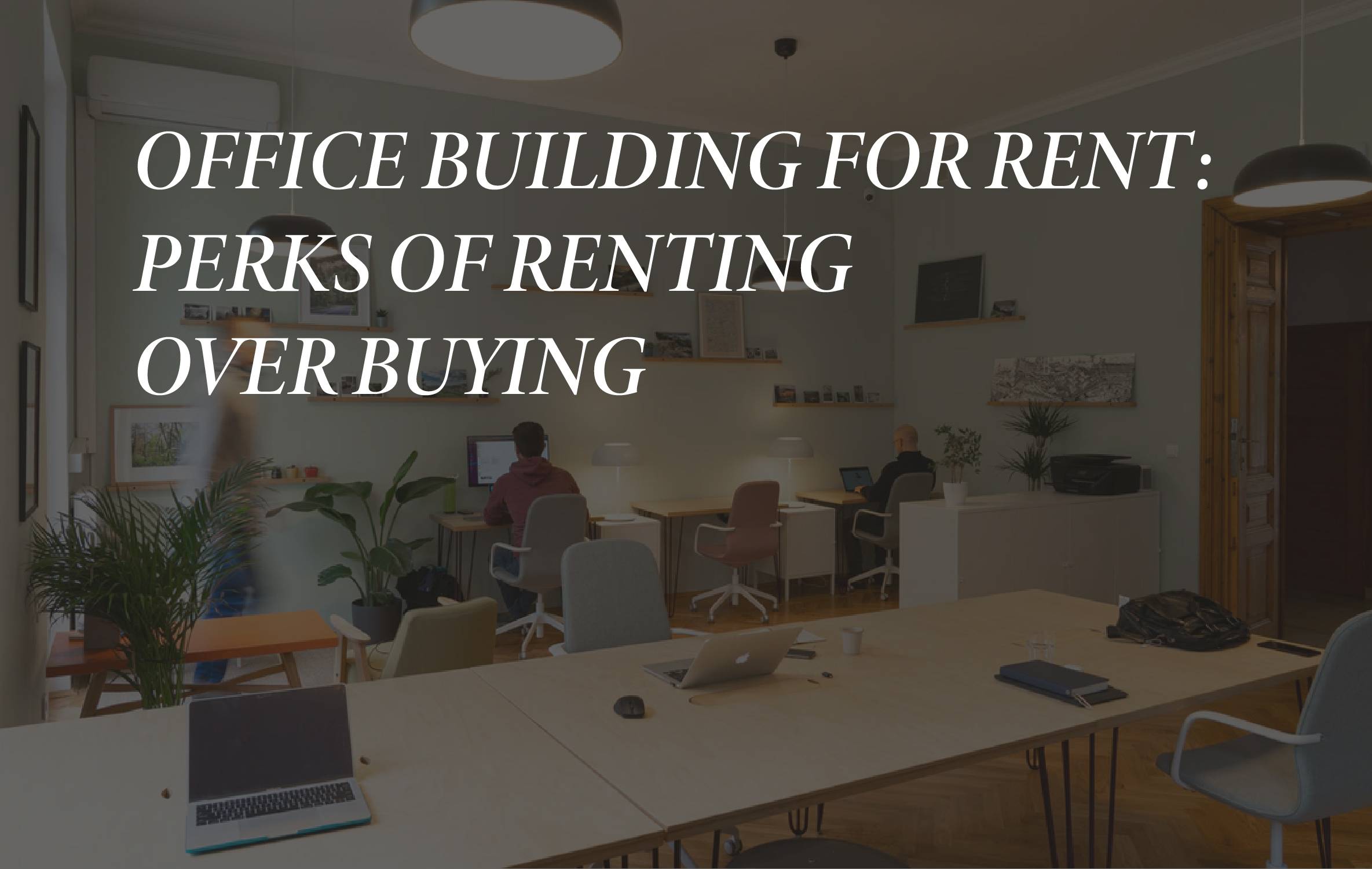 Office building for rent: Perks of renting over buying
Published At: Tue, 03/02/2021 - 13:42
"Is it better to rent or buy an office building?" This is a million-dollar question you might be asking yourself if you have a large company and are thinking of moving into a new workspace. Like any other decision, it has both pros and cons but this article we will cover the advantages of opting to rent an office building. Let's take a look!
Fewer responsibilities
It is needless to say that if you are running a business, you already have too many things to worry about and must demonstrate a high sense of responsibility for any decision you make. Obviously, before moving into a new workspace, you think about the basic amenities, such as the size, the kind of furnishings permitted, utilities, and much more. Imagine the scale of work you are going to do if you purchase that building; most probably, you will start everything anew and will spend much time and effort on paperwork, budgeting, and legalities. Let alone, planning for things like for security, building permits and building maintenance. On the other hand, if you just rent the building, most probably the landlord has already managed all of this, and you are only required to keep everything clean, neat, and presentable. Imagine a hot, busy Monday with all the deadlines you can ever imagine. Suddenly, the A/C breaks down, and instead of you or someone else in your team rushing around to find a professional, the owner of the building solves the problem in a short period. Sure, this scenario is quite optimistic, but the main reason many companies choose renting over buying is having fewer responsibilities. 
Get to work immediately
This point can directly depend on the previous one. Why? Think of a day when your company experiences a huge success and your team is able to grow larger with the addition of enthusiastic talent. You'll probably need to move into a larger place quickly and cannot waste your time. In such a scenario, finding a renovated and equipped office building sounds would be ideal. Being able to start working in an office that is already equipped does not require additional effort, and resources can enable you to begin your operations right away!
Access to a prime location
Many companies dream of having an office right in the city center or downtown  not only for the "prestige" but also for working in a strategically convenient location. Obviously, buying an entire office building in such a location can cost tons of money. Hence, renting it can be a better choice if you want to access a prime location with a lower budget. You might want to work in an office building which is close to public transportation, major business centers, or any other locations that are needed for a more smooth operation.
Easy to move out
Lovely flexibility! When you choose to rent an office building, you have the luxury to move out at the end of your lease term. Of course, if you have a lease contract signed, you may not be able to move out until then. Still, because many landlords may allow for flexible renting terms, especially in times of national economic hardships. This becomes a good choice for those companies that rent an office building for an indefinite period of time. Additionally, it motivates growth, as in this case, you can relatively outgrow your space as your team grows as well. When this happens, you cannot expect to buy a whole new office building, right?
Tax reductions
One more advantage of renting an office building is that tenants are not required to pay property taxes. Actually, real estate taxes can cause huge problems to landlords, especially when the profits they make are not that high. Those costs can vary per county and state, reaching thousands of dollars per year. Consequently, many are tempted by the fact of not having to pay property taxes while renting an office.
So many companies ask themselves whether it is better to rent an office building or to purchase it. Before making such a decision, you should weigh the benefits of each against the drawbacks. We hope you found our quick insight on the perks of choosing an office building for rent, as opposed to buying, useful and that you will keep exploring more on this topic in our blog!