Rancho Cucamonga, CA Office Space for Rent Available Now
Commercial Real Estate Rancho Cucamonga, CA
Rancho Cucamonga, CA Office Space for Lease at 9431 Haven Ave, Rancho Cucamonga, CA 91730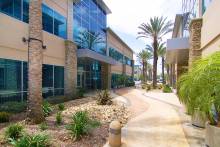 Rancho Cucamonga, CA Office Space for Lease at The Executive Suite at Haven
On the hunt for… Readmore
Rancho Cucamonga, CA Office Space for Lease at 9431 Haven Ave, Rancho Cucamonga, CA 91730


Rancho Cucamonga, CA Office Space for Lease at The Executive Suite at Haven
On the hunt for…
Discover the Best Office Space for Rent Rancho Cucamonga, CA
Looking for commercial real estate in Rancho Cucamonga, CA? Look no further! Located 39 miles east of Downtown Los Angeles, CA, and sitting on the historical Mojave Trail, the picturesque foothills of Rancho Cucamonga, CA is the epicenter of an economic Cinderella success story. A once destitute sandy wasteland inhabited by the Kucamongan Native American tribe, Rancho Cucamonga, CA's rich history begins with its first economic boom in the mid-1800s from wine production. With the award-winning wineries that still stand today, Rancho Cucamonga, CA's humble beginnings have now embraced its status as one of the strongest economic hubs in San Bernardino County, CA.
Due to the city's proximity to major interstate highways, international airports, and transportation hubs, Forbes named Rancho Cucamonga the highest-ranking American city for employment growth in 2017. With Rancho Cucamonga's rise to popularity, big companies such as Amphstar Pharmaceuticals, Frito-Lay, Tamco Steel, and Coca-Cola now call it home. With the influx of entrepreneurs, the city of Rancho Cucamonga continues to support companies on the path of success by providing high-tech office space for lease. What's more, reach neighboring cities like Chino, CA, Pomona, CA, West Covina, CA, and Diamond Bar, CA in just a short commute!
Small Office Space For Rent Rancho Cucamonga, CA
Premier office spaces for rent in Rancho Cucamonga, CA are plentiful. There is a total of 3,121,572 square feet of existing inventory, with over 180,908 square feet available for lease today. With the vacancy rate of 5.9% and the average rental rate for office space being $1.97 per square foot, the affordable office space speaks for itself. Executive office space Rancho Cucamonga, CA is full of amenities such as those at 9341 Haven Ave, Rancho Cucamonga, CA.
Office space for rent is not the only incentive this city has to offer. The community of Rancho Cucamonga, CA is a suburban dream. With a population of 176,379 residents, people trade city life for real estate heaven as the majority own their homes. Rancho Cucamonga, CA's quaint small-town environment is home to some of the most highly ranked public schools in Southern California. Along with diverse neighborhoods, shopping centers such as Victoria Gardens or Terravista Town Center provide residents and visitors with endless retail/dining options. What's more, nature buffs can explore and adventure on the Mojave Trail for days. Major highways such as historic Route 66, I-15, and Route 210 run through Rancho Cucamonga, CA making the commute to neighboring cities easy. Public transportation is serviced by Omnitrans bus service or Metrolink's Rancho Cucamonga Station.
Rancho Cucamonga, CA office space for rent is highly sought after! Call us today for a tour: 1-888-518-9168