New York, NY Office Space
Commercial Real Estate New York, NY
33 Bond Street, NY, NY 10012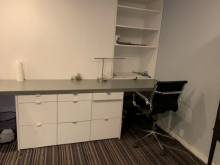 33 Bond Street, NY, NY 10012

Thrive with NoHo Office Space for Rent New York, NY  
Look no further for NoHo office space for …
Explore Spectacular New York, NY Office Space Near Me
Enjoy all that the city that never sleeps has to offer with New York, NY office space near me! It's no surprise that New York City, or NYC, is the most populous and densely populated city in the United States! It's also one of the most sought-after cities to live, work, and play in. With almost 9 million residents within its 300 square miles, this megacity by default is largely accepted as the cultural, financial, and media capital of the world. There is a lot of business to be had in New York, NY! Securing your own New York, NY office space is just the beginning of your thriving business!
New York, NY is comprised of 5 boroughs – Manhattan, Brooklyn, Queens, the Bronx, and Staten Island. As the premier immigration gateway into the United States, NYC is a cultural melting pot which means it's rich in its diversity and society. Over 800 languages are spoken in New York, NY and it draws over 66 million tourists annually. With it comes entrepreneurs, educators, movers, and shakers. Tourism all on its own is a billion-dollar industry! Several landmarks have almost become synonymous with New York City including the Statue of Liberty, Times Square, Central Park, the MET, the Broadway District, the Empire State Building, and of course, buzzing Wall Street. As the most photographed city in the world, most people can recognize NYC without ever having visited.
Thrive with New York, NY Office Space for Lease
As a global hub of business and commerce, it's no wonder that NYC is the home of the highest number of billionaires in the world. Many Fortune 500 companies and international businesses occupy New York, NY office space for lease. You'll find hundreds of headquartered office space for rent New York, NY – from the United Nations to media conglomerates.
From commerce to entertainment, research and development, tech, education, politics, fashion, and international diplomacy, office space for rent in New York, NY is in high demand. Historically, the banking and finance, world trade, and real estate industries have been the backbone of NYC's lavish fortune. Today, Silicon Alley in Manhattan, NY has brought about new industries that continue to push the boundaries of world standards. Tech sectors like digital media, software development, game design, biomedical research, venture capital, and other entrepreneurial ecosystems that occupy NYC office space bring in millions and billions of dollars. This tech sector alone employs over 300,000 people!
What are you waiting for? Immerse yourself with NYC office space for rent. Start today by calling an experienced commercial real estate agent to explore New York, NY office space near me: 1-888-518-9168