Commercial Real Estate Arcadia, CA
Commercial Real Estate Arcadia, CA
Arcadia, CA Office Space for Rent at 440 E Huntington Dr, Arcadia, CA 91106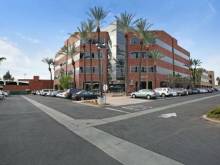 Arcadia, CA Office Space for Rent at 440 E Huntington Dr, Arcadia, CA 91106


Explore World-Class Commercial Real Estate Arcadia, CA
If you're in search of office space for rent, check out the amazing commercial real estate in Arcadia, CA! You won't be disappointed by the affluent neighborhood and the high-end commercial property for lease in this excellent locale.
Arcadia, CA sits just 13 miles northwest of Downtown LA in the San Gabriel Valley. This city offers your business the perks of a suburban community, a very affluent one at that, and close proximity to DTLA. You can have the best of both worlds with any of our serviced offices or executive suites in Arcadia, CA!
You'll have to see it to believe it, so come check out our available office space for lease!
At the San Gabriel Mountains base, Arcadia, CA is bordered by Pasadena, CA, Sierra Madre, CA, El Monte, CA, San Marino, CA, Monrovia, CA, and Temple City, CA. My Perfect Workplace can help you find the right Arcadia commercial real estate at an unbeatable price.
Why Choose Commercial Real Estate in Arcadia, CA?
Arcadia, CA is widely known for its affluent characteristics and has made headlines recently.
CNN Money magazine ranked Arcadia, CA, as number 7 in its list of towns with the highest housing median costs. While it's pricey to own a home, neighborhoods in this city are among the wealthiest communities in Southern California.
Business Insider reports that the median household income is over $300,000 annually.
Bloomberg Businessweek has also dubbed Arcadia, CA, as one of the "Best Places to Raise Your Kids" for two years in a row.
While this suburban city in Greater Los Angeles is an excellent place to raise a family, it is also a highly sought-after area for Arcadia, CA, office space for lease. Major commercial developments are currently underway to provide housing, retail, and other types of commercial real estate in Arcadia, CA.
7 Districts with Excellent Arcadia, CA Office Space Near Me for Lease
If you're looking for Arcadia, CA office space near me for lease, you have seven distinct business districts to search in.
Santa Anita Park and Westfield Santa Anita are commercial areas with premier shopping, dining, and thoroughbred racing. Westfield Santa Anita is a major shopping complex and a destination retail experience in Los Angeles, CA. It includes a 16 screen AMC theater, an outdoor promenade with high-end luxury retailers like Coach and Zara, and a variety of eateries, including Din Tai Fung and Popbar. Santa Anita Park is also the home of the Los Angeles County Arboretum and Botanic Garden, which is close to some commercial properties in Arcadia, CA.
The Baldwin District has renowned Asian restaurants and a variety of small and largely recognized retailers.
The Live Oak District stretches along the city's southern border, providing an excellent gateway to the 210 Freeway.
Peck Road/Lower Azusa District is known for its logistics, warehouse space for rent, and light manufacturing industrial space for lease.
In the Duarte District, you have a popular commercial area that includes the city's public and civil establishments.
The Downtown District is known as the heart of Arcadia, CA, with early 20th Century buildings still providing excellent executive suites in Arcadia, CA like 440 E Huntington Dr, Arcadia, CA 91006. You'll also find convenient access to the 210 Freeway, entertainment opportunities, and excellent public transportation with a Metro Rail Gold Line station. Bob Hope Burbank Airport is 25 miles away, while Los Angeles International Airport is about 45 minutes away. Named one of the Top 50 Safest Cities in California, you can bet that your business will accelerate with commercial real estate Arcadia, CA.
What are you waiting for? Call us today to tour available commercial real estate Arcadia, CA: 1-888-518-9168