Burlingame, CA Office Space
Commercial Real Estate Burlingame, CA
Burlingame, CA Office Space for Rent at 1350 Old Bayshore Hwy, Burlingame, CA 94010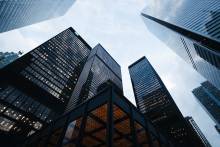 Burlingame, CA Office Space for Rent at 1350 Old Bayshore Hwy, Burlingame, CA 94010


Explore Affordable Burlingame, CA Office Space Near Me
If you're looking for an affordable location for your next workplace, check out our Burlingame, CA office space near me for lease! This quaint city located south of South San Francisco, CA and north of San Mateo, CA is a beautiful San Francisco, CA Bay city with ample commercial real estate for rent! With a population of 30,401 residents who make a median household income of $118,410, Burlingame, CA is one of the wealthier cities in San Mateo County, CA and a great place to rent office space for lease! You'll find many options in this bayside city, from newly built coworking space to creative office space to private offices!
Burlingame, CA is located south of the San Francisco International Airport, making the airline industry very popular there. Though the airline and auto industry used to dominate the economy and office space of Burlingame, CA, it is now being highly diversified into the biotech and technology sectors. In fact, many investors are buying up and renovating or building brand new office buildings! One of our available coworking spaces is located in one of these new buildings in Burlingame, CA.
Your Ideal Burlingame, CA Commercial Real Estate Near Me
Burlingame, CA commercial real estate is serviced by four major highways. Highway 101 leads from San Francisco, CAo= all the way to San Jose, CA and beyond. Highway 82 is a major commercial real estate strip called Camino Real. Highway 35 is along the eastern-most border of Burlingame, CA and connects the city to I-280. In addition to many bus line services, Burlingame, CA office space for lease is serviced by the Caltrain with two stations within city limits. Our available commercial property on Old Bayshore Hwy is closest to the Broadway Caltrain station.
The city of Burlingame, CA, and consequently our available commercial space in Burlingame, CA, enjoy many dining options throughout the city. Though the main concentration of commercial real estate is located along Broadway. The city of Burlingame, CA is known for having a highly walkable downtown area with many shops and restaurants. This city also enjoys significant shoreline of the San Francisco Bay. Enjoy walks from your new coworking space or serviced offices or executive suites to the San Francisco, CA shoreline! Talk about relaxing!
Have you found your perfect workplace locale? Call one of our expert commercial real estate agents today (1-888-518-9168) or fill out our contact form to book a tour of any of our available Burlingamem CA office space near me!