Excellent Huntington Beach Office Space for Rent
Commercial Real Estate Listings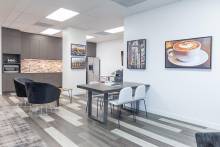 Huntington Beach Office Space for Lease at 17011 Beach Blvd




Huntington Beach Office Space for Lease at Huntington Beach Plaza 
Nestled in the heart of the OC lies your next Huntington Beach office…
Explore Spectacular Huntington Beach Office Space for Rent
Enjoy all that the best seaside city in The OC has to offer with Huntington Beach office space for rent. Also known as Surf City USA, Huntington Beach is located just 35 miles southeast of Downtown LA and is bordered by Newport Beach, Costa Mesa, Santa Ana, and Westminster. It features a 10 mile-long stretch of sandy beach along the city's curving shoreline. Its population of 201,000 residents enjoy year-round community-based events like an art walk and the carnivalesque Tuesday Surf City Nights that features a farmer's market, entertainment, and food. The rest of the world is able to take in this Surf City via its many summer events like the Vans U.S. Open of Surfing, the AVP beach volleyball tour, or the annual biathlon. The colder months are no different as Huntington Beach hosts air shows, a film festival, and holiday events.
As the 4th largest and most populous beach city in the OC, over 60,000 residents are employed by over 10,000 businesses within the city. Some of the largest businesses include Boeing and BJ's Restaurant who is headquartered in the city. In addition to well-established enterprises, Huntington Beach is extremely small-business oriented with over 69% of businesses with 1-4 employees. You'll find companies who dabble in information technology, creative media, action sports, and home services that occupy Huntington Beach office space for lease.
Perks of Huntington Beach Coworking Space
Huntington Beach is known for more than its impressively consistent surf all year long and mild climate. It's on the global map and draws hundreds of thousands of visitors year-round! Those who make it to the beach can swim, surf, sunbathe, fish, or simply hang out and take in the sun. Volleyball courts, basketball courts, bonfire pits, and a multi-use trail are also found all over the beach. This city also accommodates 3 golf courses, a central park with a public library, a dog beach, and a trendy outdoor mall.
Huntington Beach's Downtown District features over 250 businesses that offer retail, services, and dining experiences that are perfect for any occasion. Whatever the case, you have your choice of artisanal eats, specialty boutiques, and hotel accommodations. The 405 Freeway runs directly through the city connecting you to business markets like Irvine and Long Beach, as well as the rest of Greater Los Angeles and Orange County via surrounding freeways.
What are you waiting for? Immerse yourself with the beach culture at Surf City USA by calling today to schedule a tour of Huntington Beach office space for rent: 888-518-9168