Enjoy Charming Temecula, CA Office Space for Rent
Commercial Real Estate Temecula, CA
Temecula, CA Office Space for Lease at 41593 Winchester Rd, Temecula, CA 92590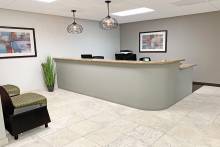 Temecula, CA Office Space for Lease at Winchester Plaza 
Located just off the 15 freeway, this centralized … Readmore
Temecula, CA Office Space for Lease at 41593 Winchester Rd, Temecula, CA 92590


Temecula, CA Office Space for Lease at Winchester Plaza 
Located just off the 15 freeway, this centralized …
Soak in Temecula, CA Office Space for Rent Near Me
Enjoy the splendor of wine country views with your own Temecula, CA office space for rent! Just 58 miles north of Downtown San Diego, CA and 85 miles southeast of Downtown LA, you can reach this tourist and resort destination within an hour from either direction. There's plenty to see and do in the Temecula Valley, visiting the wine country is just the start of it! Speaking of wine, you'll find over 50 wineries dotted throughout the rolling hills, with lots of interesting tasting rooms throughout. Locals and visitors enjoy events year-round that are hosted by the 3,500 acres of producing vineyards that surround them. The Temecula Valley Balloon and Wine Festival, Temecula Valley International Film Festival, and 7 golf courses also draw interest from those spending time in the area.
Old Town Temecula, CA serves at the city's downtown district. Though this swanky rustic area appears to be the set of a western, it actually houses a variety of businesses, big and small. You'll also find historic buildings, hotels, museums, antique dealers, boutiques, and event centers. The weekly farmers' market contributes to the city's booming agritourism by promoting locally sourced goods while small specialty food stores sell them all week.
Excellent Commercial Space for Lease in Temecula, CA
Centrally located between LA, the OC, and San Diego, CA, Temecula, CA is ideal for relocating, expanding, and or developing a new business in Southern California. It's serviced by two major highways, the 15 and 79, that conveniently connects you to neighboring business markets. Temecula, CA happens to be strategically positioned within California's Innovation hub and the San Diego Foreign Trade Zone. The area home to some of the most innovative companies in biotech, advanced manufacturing, and R&D. You'll also find tech companies like Millipore Sigma, Zillow, Google, and TD Ameritrade occupying Temecula, CA office rentals. What's more, the city of Temecula, CA offers business resources to assist businesses in setting up shop! With an average household income of $132,650, you can bet that business is good!
Don't wait any longer! Call today to schedule a tour of quality Temecula, CA office space for rent: 1-888-518-9168