Discover Chula Vista Office Space for Rent
Commercial Real Estate Listings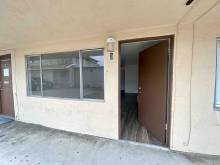 We Offer the Best Chula Vista Retail Space for Rent 
Located in the Castle Park neighborhood, this… Readmore
Flex Chula Vista Retail Space for Rent at 1177 3rd Street




We Offer the Best Chula Vista Retail Space for Rent 
Located in the Castle Park neighborhood, this…
Thrive with Chula Vista Office Space for Rent
Located in the South Bay region of San Diego County, Chula Vista office space for rent is excellent if you're looking for a quality place to do business! As the second-largest city in the San Diego metropolitan area, Chula Vista, CA is centrally located between downtown San Diego and Tijuana, which makes it a perfect for cross-border manufacturing opportunities. Chula Vista's name is suiting in that it means "beautiful view." With its scenic location between the San Diego Bay and coastal mountain foothills, this city is truly a hidden paradise. It's no wonder that Chula Vista, CA is an attractive place for both family and business.
The business-friendly atmosphere of Chula vista encourages growth and development. Thus, many small businesses serve as a stable base for its economic engine. Top employers in the city include those in the education, aerospace, healthcare, and high-tech sectors. Specifically, the strongest niche in Chula Vista is advanced manufacturing, navigation, maritime technologies, and sports innovation. With plenty of locations and office space for rent Chula Vista, new developments are also expected in the coming future. Further, the city's Economic Development Department Work Plan promises to construct over 473,000 square feet of additional Chula Vista office space for rent. From class A Chula Vista office space for lease, to flex retail spaces like 1177 3rd St, there's something for every type of business!
Your Ideal Chula Vista Commercial Real Estate Near Me Location
Chula Vista is widely referred to as the center of one of the most culturally diverse zones in the nation. Forbes even recognized this city as the second fastest-growing city in the U.S. in 2013. Its population of 274,500 residents get to enjoy the rich culture and world-class amenities. For example, community members have Third Avenue Village to explore, which is largely considered the cultural heart of Chula Vista, you'll find swanky shopping, delicious restaurants, a farmer's market, and events year-round.
As a popular tourist destination, visitors have multiple opportunities to seek an adrenaline rush or do some leisurely shopping. Aquatica water park is a local favorite for families, many golf courses are great places for professional networking, and the Chula Vista Bayfront offers first-class resorts, public parks, restaurants, and more. Also known as the Lemon Capital of the World, Chula Vista throws an annual Lemon Festival where spectators can indulge in foods like Lemon Ice Cream and Lemon Meringue Pie, and enjoy crafts, music, and performances.
Getting around Chula Vista and surrounding areas is simple via an extensive roadway system or trolley system! With several freeways and expressways, you are minutes from being on your way to your next appointment, work, or date! The 5, 805, 905 freeways lead you to Downtown San Diego to the north, and directly to the border going south. The 54 and 125 corridors allow you to travel east and west. What's more, over 100 miles of dedicated bicycle pathways are laid out throughout the city.
So, what are you waiting for? Call one of our experienced commercial real estate brokers today to schedule a tour of some great Chula Vista office space for rent: 1-888-518-9168