Thrive with La Palma, CA Office Space Near Me
Commercial Real Estate La Palma, CA
La Palma, CA Executive Suites at 6 Centerpointe Dr, La Palma, CA 90623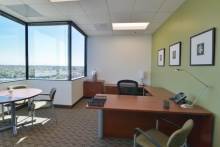 Explore High-Tech La Palma, CA Executive Suites for Rent
Located at the Centerpointe Business Center, the perfect… Readmore
La Palma, CA Executive Suites at 6 Centerpointe Dr, La Palma, CA 90623


Explore High-Tech La Palma, CA Executive Suites for Rent
Located at the Centerpointe Business Center, the perfect…
Secure Affordable La Palma, CA Office Space Near Me
Just 20 miles from LA, the perfect La Palma, A office space near me awaits! La Palma, CA is the archetypal California suburb that boasts palm trees, sunny weather, and easy access to the beach. Incorporated in 1955, La Palma, CA was originally coined as "Dairyland" due to being one of the only remaining dairy cities in Southern California, until 1965. Bordering Cerritos, CA, Cypress, CA, and Buena Park, CA, La Palma, CA is the perfect place to work, live, and play.
Business is booming in La Palma, CA and so is commercial real estate for rent La Palma, CA! The pro-business community here applies heavy emphasis on its efforts that are designed to stimulate local business growth. From large and small companies, businesses are encouraged to expand or relocate in La Palma, CA. The city even offers a "Jump Start" program that is a no-fee consultation to allow interested parties the opportunity to plan, develop and secure their office space for rent La Palma, CA at quality office properties like La Palma Centerpointe that offer solutions for coworking, private office suites, and more! Many industries find success here from various industries like aerospace, building technologies, food manufacturing, oil businesses, and software companies. The top employers in the city include ADP, Honeywell, and Kellogg's, among many others!
Ideal Business Location for La Palma, CA Commercial Space for Rent Near Me
La Palma, CA has been ranked consistently by CNN's Money Magazine as one of the "Best Places to Live" among small cities in the country. It's no wonder that La Palma, CA fits the bill! From its small-town charm to the high-ranking schools, La Palma, CA is an excellent place to plant a family or a business. With one of the lowest crime rates and lowest police response times in the OC, safety, well-being, and a strong sense of community thrives. Its median family income of $97,500 is a strong indicator of a good quality of life!
There are many things to do and places to see in La Palma, CA! Its population of 16,000 residents enjoy its own library and recreational opportunities. Three parks in the city also host designated dog areas, benches, playgrounds, picnic tables, fixed barbecues, and lighted soccer, softball, and tennis courts. In addition, excellent community programs and activities offer a variety of classes for all ages to learn new skills, improve physical and mental wellness, or meet new friends.

Considered a gateway to the OC, of course, La Palma, CA offers easy access to the best of Orange County, CA and Los Angeles, CA via arterial roads and the 91 Freeway. As a pedestrian and commuter-friendly city, the Orange County Transporation Authority provides bus stops all along La Palma Ave, while a Metrolink station is nearby as well.
Don't wait any longer! Call one of our experienced commercial real estate brokers today to schedule a tour of quality La Palma, CA office space near me: 1-888-518-9168