Charming Mission Viejo, CA Office Space for Rent
Commercial Real Estate Mission Viejo, CA
Mission Viejo, CA Office Space for Lease at 27201 Puerta Real, Mission Viejo, CA 92691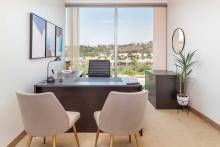 Explore Mission Viejo, CA Office Space for Lease
Nestled in the heart of the OC lies your next… Readmore
Mission Viejo, CA Office Space for Lease at 27201 Puerta Real, Mission Viejo, CA 92691


Explore Mission Viejo, CA Office Space for Lease
Nestled in the heart of the OC lies your next…
We Offer the Best Mission Viejo, CA Office Space for Rent
Whether you're looking for a place to start or move your business to, Mission Viejo, CA office space for rent is going to help you thrive! This commuter city in Orange County, CA is conveniently located 49 miles south of Los Angeles, CA and 73 miles north of San Diego, CA. It's a surprise to some that Mission Viejo, CA was one of the last regions in Orange County to be urbanized, but its master planning design has greatly shaped the quality of life with its proximity to local amenities and an energetic atmosphere. Bordering Lake Forest, CA, Trabuco Canyon, CA, Rancho Santa Margarita, CA, and Ladera Ranch, CA, Mission Viejo, CA is consistently rated as one of the safest cities in California. The residential population of about 94,000, plus tens of thousands of workers, enjoy the picturesque sprawl of tree-lined neighborhoods with mission-style architecture.
This quaint hillside village is more than just "adobe" influenced homes, there is also plenty of Mission Viejo, CA office space. All kinds of large businesses, and startups alike, find success in Mission Viejo, CA. From small spaces to two-story buildings and amenity-packed mid-rises, there is a professional environment for any type of business. Marie Callender's headquarters can be found in Mission Viejo, CA along with some of the most innovative startups in tech. In addition to quality office space for rent, the city of Mission Viejo, CA is packed with resources for new presences. For instance, there are about 40 free to no-cost business workshops, and lots of office space for rent. Further, Mission Hospital is one of the largest hospitals in the OC and is host to several state-of-the-art medical services that draw in patients from all over the country.
Excellent Amenities for an Affordable Commercial Space for Lease in Mission Viejo, CA
With great accessibility to several major freeways and plenty of amenities, Mission Viejo, CA has it all. There are two main shopping centers located within the city. The Shops at Mission Viejo and Kaleidoscope Center offer plenty of opportunities for shopping, dining, and family-oriented facilities and services. The fun doesn't stop there as you'll find about two parks per square mile of the city. Enjoy walks, light jogs, paddle boarding, fishing, and swim beaches! Great accessibility to five freeways (5, 241, 73, S18, 101) allow direct commutes to neighboring cities.
The community of Mission Viejo, CA remains a recreationally driven city. The Mission Viejo Youth Athletic Park is a major youth athletic facility with 8 baseball fields, and 5 soccer fields. You'll also find 3 golf courses and many tennis courts throughout the city as well. There are many team programs and leagues from minor to semi-pro and collegiate. It's no surprise that the city has since produced several Olympians during the 70s and 80s, and professional athletes that went on to play in the NFL, MLB, and PGA. Its charming backdrop was even the host of the 1984 Los Angeles Summer Olympics Road Cycling events.
Don't wait any longer! Call us today to schedule a tour of quality Mission Viejo, CA office space for rent: 1-888-518-9168