Discover Rancho Santa Margarita Office Space for Rent
Commercial Real Estate Listings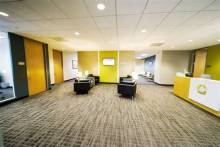 Office Space for Rent Rancho Santa Margarita at 30211 Avenida De Las Banderas

Thrive with Rancho Santa Margarita Office Space for Rent
If you're looking to plant your business in the heart of the OC, Rancho Santa Margarita office space for rent is worth considering! As one of Orange County's youngest cities established in 2000, Rancho Santa Margarita is a master-planned community that seamlessly blends its beautiful natural environment and well-designed civic developments. Located in the heart of the Saddleback Valley in South Orange County, Rancho Santa Margarita borders Lake Forest, Mission Viejo, and Ladera Ranch. Located along the Santa Ana Mountains, this city provides an oasis of nature like open spaces and scenic resources. Here, you'll find creeks, parks, vegetation, and scenic vistas.
Stretching 13 square miles, Rancho Santa Margarita offers small-town village character enhanced by well-maintained neighborhoods. This community offers a diverse balance of jobs and housing to support the people who live, work, and play. The office space for lease Rancho Santa Margarita is abundant at large office properties like the Koll Business Center! Its population of 49,000 are primarily residents of neighborhoods that are part of larger homeowners' associations. The median annual income of $105,000 means that business is booming!
Some of the natural amenities that residents, employees, and visitors can take advantage of are Lake Santa Margarita, pools, a community center, plenty of pedestrian and bike trails, and of course parks. Rancho Santa Margarita is home to 13 parks –a dog park, skate park, wilderness parks with hiking and bike trails, cliffs, equestrian areas, and 3 golf courses.
Ideal Business Location for Commercial Space for Rent Near Me
It's no secret that Rancho Santa Margarita is a business-friendly community. This means that processes are clear and streamlined to enable businesses to expand or establish themselves. It's a strategic location being that it's a short 15-minute drive to surrounding communities like Irvine. Several industries like medical device manufacturing, landscaping contractors, automotive accessories, database service, and other professional firms all benefit from their business addresses here. The top employers who occupy Rancho Santa Margarita office space for lease are Applied Medical and O'Connell Landscape Maintenance.
Being a scenic community, you might be surprised to find that Rancho Santa Margarita has made its appearances in film and television. The popular sitcom Arrested Development was filmed in various neighborhoods, while the reality show Real Housewives of Orange County was filmed at several restaurants and shops throughout the series. Along with having the longest city name in California, this family-oriented community is well-designed, well cared for, and very welcoming.
Don't wait any longer! Call one of our experienced commercial real estate brokers today to schedule a tour of quality Rancho Santa Margarita office space for rent: 1-888-518-9168